!bgsound src="music/danger.mid" loop="-1"> <!bgsound src="music/alivekik.mid" loop="-1"> <!bgsound src="music/brokenw.mid" loop="-1"> <!bgsound src="music/jump.mid" loop="-1"> <!bgsound src="music/longfellow_serenade.mid" loop="-1"> <!bgsound src="music/rulewrld.mid" loop="-1"> <!bgsound src="music/sldghamr.mid" loop="-1"> <!bgsound src="music/tainted.mid" loop="-1">

<!body background="../leonard/web/bg-wood.jpg">

Olive Branch Thrift Shop

Sponsored by:

Queen of Peace Catholic Church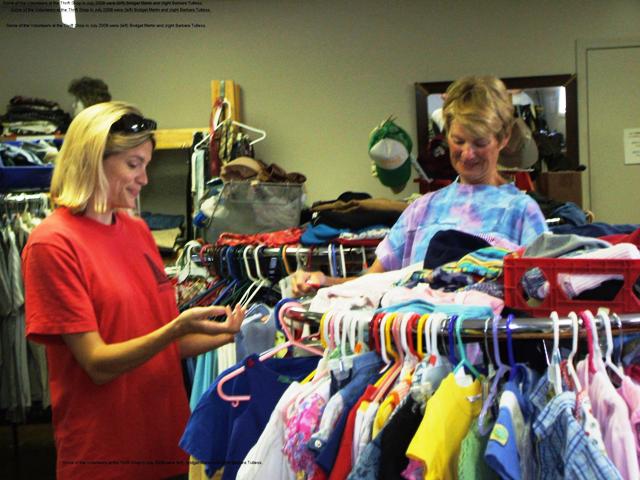 The Olive Branch Community Thrift Shop located at 10947 Highway 178 (at the intersection of Hwy 178 and Hacks Cross) in Olive Branch is open every
TUESDAY 10:00 am -12:30 pm
FRIDAY 12:00 pm - 4:00 pm
SATURDAY 10:00 am - 2:00 pm
Click on the thumbnails below to see our volunteers in action!
<!img src="images/ta/taline.gif">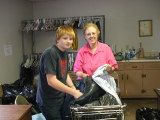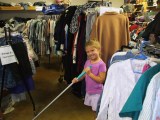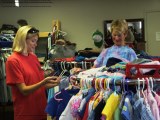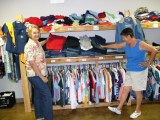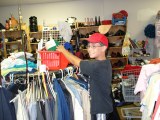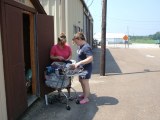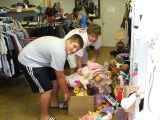 The Thrift Shop is non-denominational clothing and small goods store selling lightly used clothing and household linens. Clothes and small items are sorted and displayed for purchase at a nominal fee. Any items that are slightly stained or torn are picked up by the Am Vets truck every Tuesday. The Thrift Shop also distributes clothes at no charge to Katrina victims, families in need that come to us through the Food Pantry or through Sister Pauline Egan at Sacred Heart Southern Missions.
The following churches operate the Thrift Shop on a totally volunteer basis. They are:

QUEEN OF PEACE CATHOLIC CHURCH

CEDARVIEW BAPTIST CHURCH-LEWISBURG,

CHRIST PRESBYTERIAN,

FIRST BAPTIST,

LEWISBURG METHODIST,

LONGVIEW HEIGHTS BAPTIST,

MAPLES MEMORIAL METHODIST,
MINERAL WELLS METHODIST

&

PLEASANT HILL BAPTIST

Each church operates the Thrift Shop for one month. Some of the churches have a small congregation so they will share a month.

There is a Food Pantry/Thrift Shop Committee Meeting, with a representative from each church, which meets twice a year. At that meeting requests are received and discussed for donations to worthy local organizations such as Grace House, an Orphanage in Independence, Sr Pauline Egan with Sacred Heart Southern Missions, etc.

If you would like some easy, very self fulfilling volunteer work, or if you would like some more information Contact Betty Cail at 662-895-8912 or email ecail@comcast.net