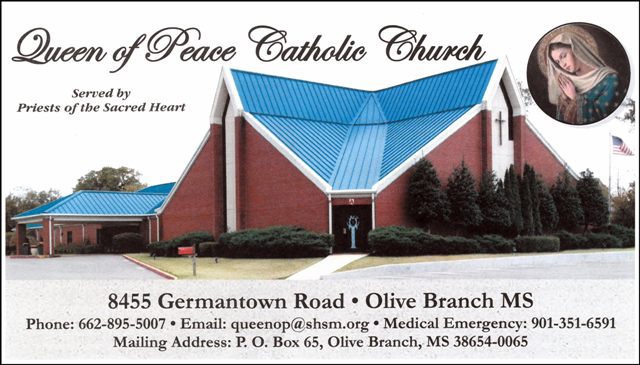 Below is a brief history of our parish along with photos I have uncovered showing some of the people and places that helped shape our parish over the years. You can click on most of the photos to enlarge them. If you know who the people are in these photos please send me an email and tell me who they are. Also if you have photos from our past that you would like to have included please send them to me as well and I will add them.
About us:
Queen of Peace Parish grew from the wants and needs of Catholic families in north Mississippi.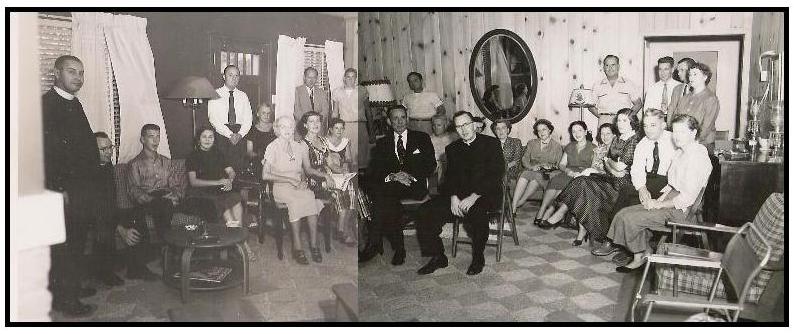 Our story begins in early 1954 when Claudia Wiseman, Lucie Collins and Fr. Thomas Simcox, S.C.J. discovered that there were 12 other Catholic families in the Olive Branch area. The new 59 member congregation first met in a dance studio above the City Cleaners building in downtown Olive Branch. The building was located at the northeast corner of Pigeon Roost and Goodman Road in what is now "Olive Branch Old Towne"
We continued to celebrate Mass in the 'dance hall' for several years.
Under the guidance of Fr. Tom Corcoran, S.C.J our congregation continued to grow. We moved into the old Magnolia Cafe Restaurant in 1963. The Cafe was located on Highway 78 (now called Old Highway 78) next to the existing Chevron Station (then Standard Oil).
Our parish was considered a mission church and was served by many priests. During this time Masses were celebrated by Fr. Tom Corcoran, Fr. Michael Monley, Fr. Robert Werner and other Priests of the Sacred Heart. We continued using the cafe until a group of parishioners with the Priests of the Sacred Heart formed a committee and took on the task of purchasing our own plot of land and constructing a building for us to celebrate Mass in as well as have some space for a social hall.
A site on Sandidge Road was selected (pictured in color above with Fr. Tom Corcoran) and the construction began. In order to keep costs at a minimum the parishioners of Queen of Peace provided most the labor required to build the building, install the plumbing, do the necessary electrical and landscaping for our new church.

The new church building was finished in 1974 and at long last the Catholic community of Olive Branch had their own church building to celebrate Mass.
Fr. Jack Kurps, S.C.J became the first resident priest for Queen of Peace in 1980. With Fr. Jack's appointment our population had doubled from 30 families to over 60 families.
In 1983 our community became a parish under the Diocese of Jackson, MS. prior to that time we were a mission church served by the Priests of the Sacred Heart and Sacred Heart Southern Missions. Fr. Jack Kurps was installed as our first pastor. Fr. Thomas Burnes succeed him as our pastor and in 1993 Fr. John Young

was appointed as pastor of Queen of Peace Catholic Church.
Under Fr. John's leadership we continued to grow. As the city of Olive Branch continued to grow so did our congregation. We had long since out grown our Sandidge road church building. Fr. John formed a building committee and a site on Germantown road was selected as our new church site. Construction began in 1996 and the building was completed in August of 1998.
With our new larger facility our population skyrocketed. We started in 1954 with 12 families and now our congregation has grown to over 700 families from Olive Branch and our neighboring cities.
As we look into the future we will certainly be adding on to our building to support our ever growing population. We look forward to YOU being a part of that growth.